Being a rather visual genre, puppet and object theatre represents a specific challenge for blind and visually impaired audiences. This year the international figuren.theater.festival breaks fresh grounds and widens its horizons and inclusive offers. Especially for the festival, an audiodescription of one of the performances will be developped with a specialised team to make all visual proceedings and contents on stage more easily perceivable. The actual performance will be complemented by a preceding introductory session and a tour of the stage, to give visually impaired audiences the opportunity to get a feeling for décor, puppets and staging.
Special receiving units for the transmission of the live-audiodescription are available on loan for free. A contingent of seats has been reserved and we kindly ask to contact the festival at barrierefrei@figurentheaterfestival.de or by phone at 09131 86-1414, since these tickets cannot be bought online or in the advance ticket offices. We will get in touch with you as soon as possible.
We look forward to welcoming you at the 21st international figuren.theater.festival!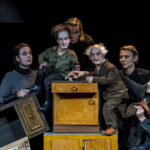 erlangen,
Tue. 28.05. 17:00 &middot Wed. 29.05. 15:00 and 19:00
Theater Chemnitz | Germany
Wenn mich einer fragte …
ca. 75 min
May 28 – with sign language interpretation
|
May 29 – with audiodescription
read more