"Tiny Masters" – Monsters Unleashed!
Fantastic Creatures Made of Styrofoam and Wire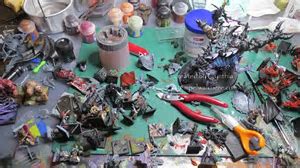 for tiny masters ages 6+

Can you hear the loud knocking on the door? It almost looks like it is shaking … what strange creature might be hiding behind it? We try to look through the window. Maybe the creature has big green eyes, blue sparkling fur, or sharp red ears. Is there a magic troll behind the door, a fairy godmother or even an anxious monster? Quickly, we shape the fantastic creature from our memory with polystyrene, wire and colourful feathers in the studio, before we forget what it looked like.
Meeting point: entrance Kunstpalais
Participation: 5,00 € (incl. entrance to the exhibition and material). Limited number of participants! Registration is requested by e-mail at info@kunstpalais.de.