CCN2 – Centre chorégraphique national de Grenoble
|

France

Dialogue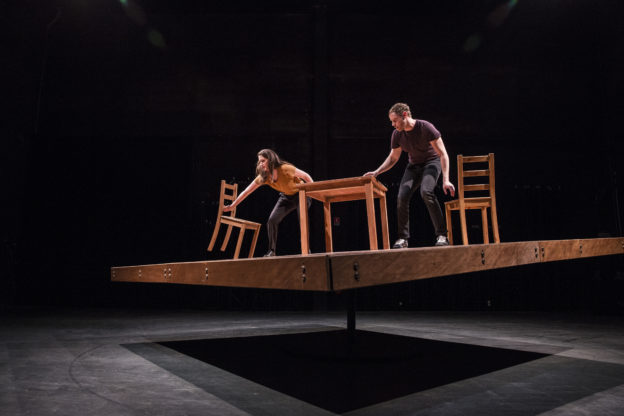 ca. 15 min
without words | admission free!

Dance | Nouveau Cirque
In co-production with Compagnie Yoann Bourgeois, MCB° Maison de la culture de Bourges, Théâtre National de Bretagne/Rennes, Théâtre de la Ville/Paris, CAPI -Théâtre du Vellein | Yoann Borgeois is supported by the Fondation BNP Paribas | The CCN2 is financed by Drac Auvergne-Rhône-Alpes/Ministère de la Culture et de la Communication, Grenoble-Alpes Métropole, Département de l'Isère, Région Auvergne-Rhône-Alpes and supported by Institut français for international touring
Concept, scenography and staging: Yoann Bourgeois | Performers: Estelle Clément-Béalem, Raphaël Defour | Costumes: Sigolène Petey | Research and construction: David Hanse, Nicolas Picot (C3 Sud Est), Christophe Rayaume | Stage Management: Nicolas Anastassiou
German Premiere
A surface hovering over the ground, a table, two chairs, a pair of artists trying to unite… In his search for the sublime point of suspension, French choreographer Yoann Bourgeois seeks to create images of great intensity by ingeniously reducing the action to a minimum. Experimenting with the boundaries of physical and temporal realities, Bourgeois' works artistically revisit and transform the codes of traditional circus and challenge the rules of gravity and perception.