half past selber schuld
|

Israel/Germany

Kafka in Wonderland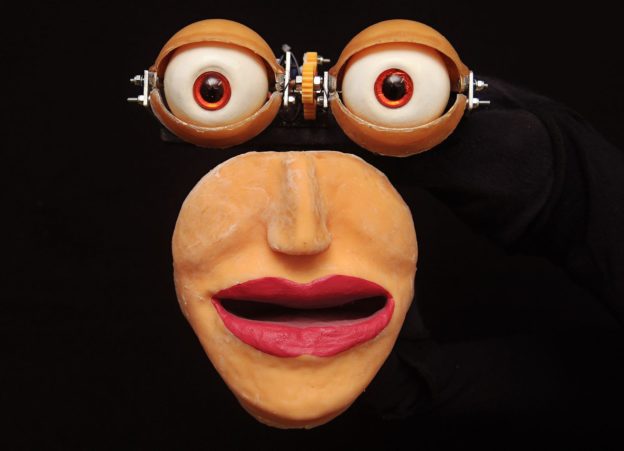 ca. 75 min

Stage Comic
Co-productions: Tafelhalle im KunstKulturQuartier Nürnberg and the international figuren.theater.festival, FFT Düsseldorf and Theater im Pumpenhaus Münster | With friendly support from: Firma A. Haussmann Theaterbedarf GmbH | Funded by: Ministry for Family, Children, Youth, Culture and Sports of the state North Rhine-Westfalia, Cultural Department of Düsseldorf, Fonds Darstellende Künste e. V. and Van Meeteren Foundation.
Direction, concept: half past selber schuld | Co-author, co-director: Eli Zachary Socoloff Presser | Music: half past selber schuld, Sven Kacirek | Choreography: Francesco Pedone | Liveteam: half past selber schuld, Florian Deiss, Kevin Klimek, Francesco Pedone, Bruno Belil, Gianfranco Celestino, Niklas Füllner | Light design: Tobias Heide | Mix and sound: Lex Parka | Puppets, props: half past selber schuld, Florian Deiss, Kevin Klimek, Bruno Belil, Jeanette Wohlfeil, Theresia Koppers
The company Wonderland inc. expands the human possibilities with the help of genetics, robotics and nano-technology. This means a secure future, but it also could lead to our biggest nightmare. With puppeteer Eli Zachary Socoloff Presser and shadow artist, Christine Marie from L.A., the duo half past selber schuld, consisting of musician Ilanit Magarshak-Riegg and comicstrip-artist Frank Römmele (alias Sir Ladybug Beetle), travels towards a manic future.

Supported by the NATIONALES PERFORMANCE NETZ Guest Performance Fund for Theatre, which is funded by the Federal Government Commissioner for Culture and the Media and the Departments of Culture and Arts of the German federal state.