Antje Töpfer
|

Germany

3 Akte (3 Acts)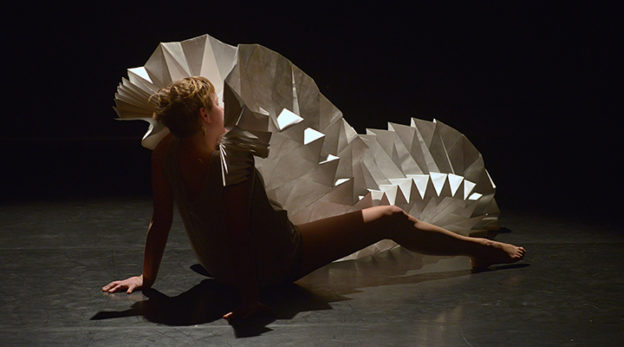 Das stumme Lied vom Eigensinn (The silent song of stubbornness)
ca. 80 min

Object Theatre
In cooperation with: FITZ! Zentrum für Figurentheater, Stuttgart, Schaubude Berlin |Supported by: Goethe-Institut, Villa Kamogawa Kyoto, Theaterhaus Mitte, Berlin | Funded by: Landeshauptstadt Stuttgart, the Landesverband Freier Theater Baden-Württemberg, Performing Arts Funds und the Foundation of Landesbank Baden-Württemberg.
Set, performance: Antje Töpfer | Direction: Stefanie Oberhoff | Live music: Christoph Mäcki Hamann | Earlier research with Katja F. M. Wolf (choreography at unFOLD), Florian Feisel (support at unCOVER), Anna Peschke (direction at reBONE)
In "3 Acts – the silent song of stubbornness", Antje Töpfer deals with materials that were left behind from past productions and are now asserting themselves in unexpected ways. The direction of Stefanie Oberhoff and music accompaniment of Christoph Mäcki Hamann have given birth to an entertaining and multifaceted evening surrounding the stubbornness of materials, the obstinacy of ideas and urgently required transformations.

Supported by the NATIONALES PERFORMANCE NETZ Guest Performance Fund for Theatre, which is funded by the Federal Government Commissioner for Culture and the Media and the Departments of Culture and Arts of the German federal state.